"Reading is a conversation. All books talk. But a good book listens as well."
– Mark Haddon
Where does the content come from?
Our Content is based on the clinical work of our founder, Seth Atwater and on the literary expertise of Jessica Atwater. Seth and Jessica have worked together for over a decade finding the right story for each of Seth's clients. Now we have taken over 15 years of experience and are translating it into online content to reach out to a wider audience. We hope that you can find joy and healing through the same processes that thousands of our clients have experienced.
Seth and Jessica have called the process they have developed External Experiential Processing.
What is External Experiential Processing (EEP)?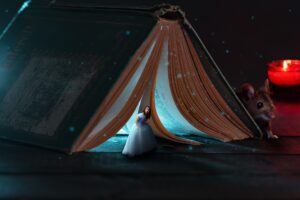 EEP combines elements of Narrative therapy with Experiential therapy, Cognitive/Behavioral therapy, Emotion Focused therapy, Solution Focused therapy, Dialectical Behavioral therapy, and Analytical Therapy in a new, synergistic way. By learning to access our consciousness at five different depth levels, we learn why we do what we do, think what we think, feel what we feel, and how to change at every level. This is accomplished through an external experience, which helps us learn to identify and modify our own consciousness by first practicing externally through a character and story in an emotionally protected environment. Using high quality literature to facilitate self-directed positive change is a key component of the External Experiential Processing method.
To learn more about our purpose and future developments see the About page on our homepage at atwaterhealing.com.