"Reading is a conversation. All books talk. But a good book listens as well."
– Mark Haddon
Stories
Our community services and healing retreats utilize a unique, literature-based method. This method is based on External Experiential Processing (EEP), an entirely new model developed by Seth Atwater over nearly two decades of coaching, therapy, study and practice. The basic tools of this model, the Five Levels of Consciousness and the Change Wheel, will be taught on our patron member's page and during visits and retreats to create a mental foundation for the healing work.
Because we as human beings process our life experience in story form, well-told stories allow us to externalize our own experiences, process the trauma, and heal more completely than other methods. Most therapy works to move victims from crisis to survival mode. Our goal is to move participants from survival to healing, so that they move from living with the trauma to leaving the trauma behind.
Understanding the Five Levels of Consciousness allows us to incorporate elements from various coaching and therapy models. Beginning with narrative and experiential, we utilize models to target each level of consciousness. Behavioral, cognitive, emotion-focused, solution-focused, dialectical, and analytic models all play their parts. Our model integrates all the best and most helpful elements of most of the current major models in a synergistic way, recognizing the correct time and level to apply each model.
What is External Experiential Processing (EEP)?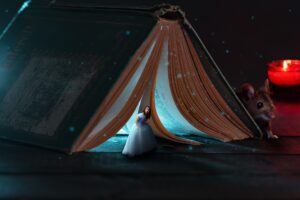 EEP combines elements of Narrative therapy with Experiential therapy, Cognitive/Behavioral therapy, Emotion Focused therapy, Solution Focused therapy, Dialectical Behavioral therapy, and Analytical Therapy in a new, synergistic way. By learning to access our consciousness at five different depth levels, we learn why we do what we do, think what we think, feel what we feel, and how to change at every level. This is accomplished through an external experience, which helps us learn to identify and modify our own consciousness by first practicing externally through a character and story in an emotionally protected environment. Using high quality literature to facilitate self-directed positive change is a key component of the External Experiential Processing method.